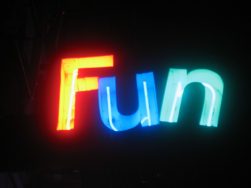 The Owners Corporation are holding a lane way party on Sunday 19th January, 2020 between 1.30pm and 6pm. We hope to see residents, agents, and contractors for a fun afternoon!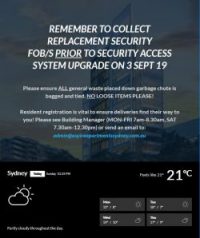 Both lifts will soon have information screens installed, to serve as a dynamic noticeboard for easier and more informative communication with residents. This will enhance the feel of the building further, and modernise communication methods. The screen content is completely dynamic and configurable. Content will change dependent on what is going on in the building, […]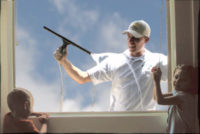 Greetings Residents, Exterior Window Glass Cleaning Commencing Monday 26th August 2019, TownView will commence the cleaning all exterior building surfaces, including glass windows and metal louvres.  Work will take all of the week to complete. It is envisaged that the cleaning works will take approx. 1 week in total. This will wash NOT include balconies […]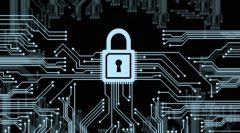 Residents, Agents and Suppliers (that are assigned fobs), We have commenced work on a project that will greatly enhance security and access control within Aspire Apartments, for all residents. All security access system readers will be replaced with encrypted readers – which means that it will be impossible to replicate or "clone" security fobs. For […]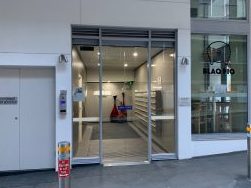 The new front entrance glass sliding doors have been installed, and feedback has been great! This will enhance security, and gives the entrance a more modern, streamlined look.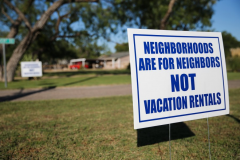 The Owners Corporation are very active with the OCN (Owners Corporation Network), and in specific have contributed a significant amount of money in the past years to the fighting fund, against short term letting in strata environments.  Our short term letting by law is currently being updated, reviewed and enhanced by our lawyers to be […]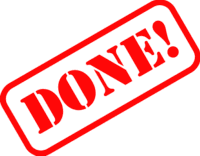 As reported at the AGM on Thursday, 25th July 2019, all original building defects are now closed out. This concludes four years of working with the developer/builder to identify, address and close out items that were considered an issue.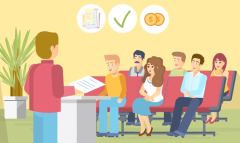 The annual general meeting of the Owners Corporation was held on Thursday evening (25th July 2019) at 6pm.  It was great so see so many owner occupiers attend, and take an interest in their building.  It was also great to see everyone really happy with how the building has evolved, and great to see everyone […]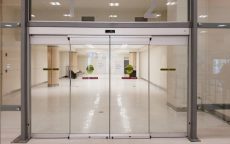 At the AGM, held on Thursday 25th July 2019, owners voted in favor to proceed with an upgrade to the front entrance door. This upgrade will replace the current swinging door with two glass sliding doors. The upgrade will enhance security and ensure that the doors aren't left open unless authorised whilst being more practical. […]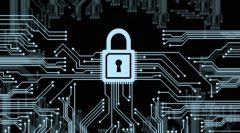 At the AGM, held on Thursday 25th July 2019, owners voted in favor to proceed with an upgrade to the security access system. This upgrade will replace all security access fobs and readers from an unencrypted system, to a fully encrypted system. This means that residents will no longer be able to clone and copy […]